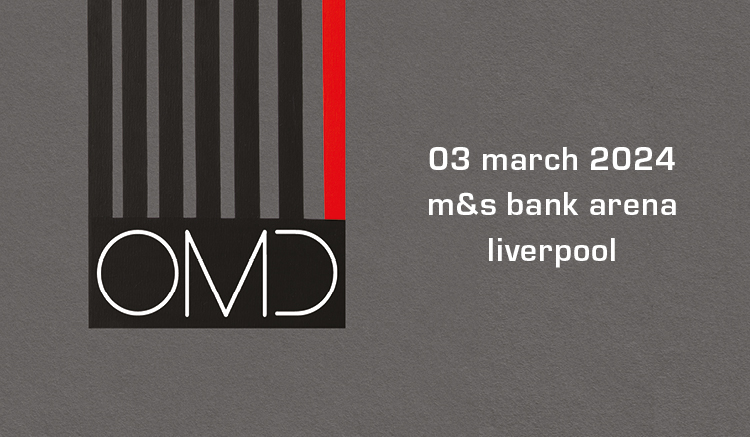 OMD
After the recent announcement of their forthcoming new studio album, synth pioneers Orchestral Manoeuvres In The Dark (OMD) reveal details of their return to the stage, with the band taking to the road and coming to the M&S Bank Arena Liverpool on the 3rd March 2024!

"We are so excited to be able to tour again with a brand new album to showcase." says Andy McCluskey. "It's been six years since we learned new songs for live performances. The songs from Bauhaus Staircase will fit beautifully into our setlist - we just have to choose which five to play, as we have to treat people to the hits as well!"
OMD have sold an astonishing 25 million singles and 15 million albums, which has established them as electronic synthesiser pioneers and one of Britain's best-loved pop groups. Their 13 albums include reissued 'Orchestral Manoeuvres In The Dark' (1980), 'Organisation' (1980), 'Architecture & Morality' (1981) and 'Dazzle Ships' (1983).
The band also release 'Slow Train' - the second installment from their forthcoming new studio album Bauhaus Staircase  - out October 27th . A raucous, glam-tinged explosion, 'Slow Train' arrives with help from the band;s only other external influence David Watts. Known as a rock producer, who helmed Sheffield band The Reytons' recent No 1 album What's Rock And Roll?, he brings a sharp, exciting new sound to the record -  listen here.

"Slow Train is a bonkers song and the video is stunningly crazy!" Andy reflects. "It feels nice to be able to challenge people's expectations of the band after 45 years of creating music"

The new album sees the band's most explicitly political record and the crowning achievement of their desire to be both Stockhausen and Abba - born from the impetus to kickstart new explorations during lockdown. A broad, electronic, sonic masterpiece that lyrically tackles the topics of the future, it was predominantly written, recorded, and mixed by both McCluskey & Paul Humphreys (who has recently become a second-time father).
Under 14's must be accompanied by an adult. 
£52.25 / £57.75
(incl. service and facility fee) plus £2.95 order processing fee per order
3rd March 2024
M&S Bank Arena, Liverpool